Bayou Fitness Adjustable Dumbbells Review
From many years, manufacturers kept on searching to invent creative ways to deliver better or improved products to their customers. This thing is true and countless which varies from fields and  products . When it comes to of fitness equipment and dumbbells, Bayou is one of the most renowned companies, which is surpassing the way from many years . They provide a huge variety of dumbbells, which are enough for the growth of your muscles through your arms, shoulders, chest and legs. If you are planning to workout at home dumbbells are the must have equipment to start with and for that you should go for Adjustable dumbbells because they do not require much space and are very budget friendly then buying an expensive dumbbell racks or dozen of dumbbells with different weights.
Gyms have capability to do this because they have much space and they need variation in dumbbells as they are dealing with many clients at a time. So for them it makes sense, Bayou Fitness adjustable dumbbell are one of the best if you are going with mentality.They have desirable amount of weight till 50 pounds so basically they are for beginners.Or if you need more than 50 pounds in future than in that case you should go for any Old School dumbbells like Yes4All Or UniPack. Bayou fitness dumbbells have been ruling the adjustable dumbbell market for many years and the reason of that is their dumbbell design, look and the material. These are the basic factors which makes them viable in the market.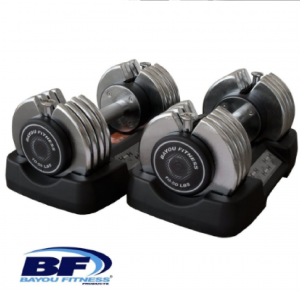 Table of Contents:
Product Description
Specifications and Features
Pros and Cons
Final Verdict and Reviews
Product Description
The Bayou Fitness Adjustable Dumbbell is one of the best of regarding adjustable dumbbells. The functionality, the feel, the looks simply makes them stand out from rest of them. The set of Bayou Fitness Dumbbells consist of a dial system which you can turn on any of the side by a knob to vary weight. If you want something that looks better than Cast iron both by quality and aesthetically then I think chrome is the best option. With Pitch Heavy Black and glossy chrome makes the Bayou Fitness dumbbells outstanding then Old School ones. This dumbbell is preferable to all levels, from beginners to professionals as its weight can be varied from light to heavy. It has a 13 inch long handle having variation of weight from ten to fifty pounds. A standard fifty pound dumbbell is 15.75 inches long and 8 inches wide.Dumbbells are made to be placed on floor quite often so the edges of Bayou Fitness Dumbbells are crafted in such a way that the dumbbells cannot slide when placed on the floor. Or if you don't want to place them on floor you can even get its stand.
The dial system has nine settings. From the range of 10 to 50 pounds you can choose between nine different sets of weight which matches your desire. With a five pound increment on each setting tells that each plate weighs five pounds. The method of dial system makes variation of weights much easier than using a spin collar method. For ten pounds, you use the dumbbells with no plates attached. For twenty pounds, you go for single plate on each side. For thirty pounds, double plates on every side are required. For forty pounds, add triple plates on every side. For Fifty pounds, add four plates on every side.
The working of lever system is such that when you adjust the knob regarding your required weight, the number of plate is locked onto the dumbbell while leaving the other ones back on tray. The use of tray is necessary while adjusting weights. It takes less than ten seconds to change the weight so I think the dial system in Bayou Fitness dumbbells are pretty fast. Bayou Fitness Dumbbells are preferable to be use on high intensity workouts in which you have to change the wait very quickly with less rest time. Bayou Fitness gives you a DVD with the set of Adjustable dumbbells Review which is supported with twenty different workout routines with 20 different exercises. These are pretty big numbers which consist of both intense and strength training. Bayou Fitness is a trusted company known to sell many health and exercise equipment, DVDs, fitness manual and guides made by certified trainers that makes you to experience one of best quality products.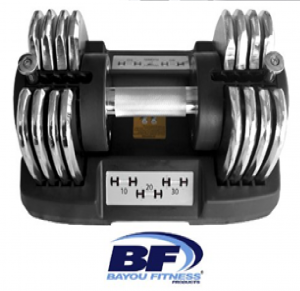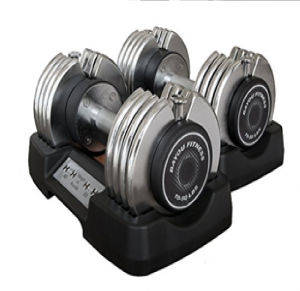 Specifications and Features
Bayou Fitness Adjustable Dumbbells got Dimensions of 18" x 13" x 11"
Bayou Fitness dumbbell gives a choice to buy their product singular or with a pair.
Normal set is a pair of fifty pounds.
Weight can be varied from a range of ten pounds to fifty pounds.
Increment of ten pounds between 10 lbs. – 50 lbs.
One plate of Bayou Fitness Adjustable Dumbbellscarries ten pounds.
Dial system is great for beginners who are following the program from basic weight.
Price changes depending on your choice of set.
Sets are provided in a storage tray. With molded grids on tray it can be easily slide and handle.
Consuming minimum space and opportunity to store anywhere at home.
Shiny and elegant look due to Chrome plating.
Strong and firm grip by the handle is enough to provide desirable friction.
The grids built on handles provides the user a good form in their workout.
Plates are kept secured due to locking mechanism on each end.
Comes with a limited one year warranty.
Advisable to use Bayou Dumbbells with extensive care neglecting gym abuse because warranty isn't enough.
These dumbbells are durable because of heavy chrome platted construction.

Final Verdict and Review
When I bought my Bayou Fitness Adjustable Dumbbellsnearly after six months and be enough to say that I was totally satisfied with my purchase. They are convenient and portable for everyday use. Although if somehow you break the dial they are very harder to fix. Some customers also faced the problem that knob is quite weak after several use also the plates were sticking into the tray. Ten pound increment can be taken in both positive and negative manner. Good for experienced weightlifters is one positive aspect. Increment of too much weight may be a bit harder for beginners is one negative aspect.
To achieve a good balance you have to make sure that lever on both ends of dumbbell is properly fixed. This will lead you towards better form and gaining muscle quickly. This will even help you in much complicated exercises and once you get the correct form it will be just a matter of time to add more and more weight. Heavier weights are required if you are using same set of dumbbells of same weight after every exercise or round. It is because the gains starts to fade if you are using same variation of weight constantly. So to maintain strength and getting improvement try switching on heavier weights one step at a time. With this reason I think why you should go for Bayou Fitness adjustable dumbbells. Despite of all the negative aspects, Bayou Fitness Adjustable dumbbells Reviews 2017 are great space saver, average size, very versatile and durable. They are giving you a need of five fixed dumbbells into one so you can look forward to invest in them. The warranty is limited I agree, but it doesn't really bother me because I think they can offer me for lifetime. So it is extremely encourage to purchase a pair of these dumbbells once in your life.
Pros
Very Durable, can last many years.
With weight and stand its affordable too compare to other adjustable dumbbells.
No extra space between plates that may create undesirable sound during exercise.
Good weight range of ten to fifty pounds.
Portable because of storage tray.
Cons
Adjusting weights takes some time because of the lock.
Chrome plate equipment can have rust.
Old school dumbbells are much cheaper than Bayou Fitness adjustable Dumbbells.
Width is bit larger that gives difficult in performing some exercises.