Body Solid OSR500S Rubber Grip Olympic Set With Chrome Bar Review
Building a body like a top level athlete requires a lot of hard work, motivation, determination and focus. Though having all these things and a good set of Iron weight plates will enhance your goal to move a further step. Free weight training gives a vast variety of intense exercises for a wide range of user. Starting from beginner to top level athlete, they gives an equal result. Therefore, free Weight Sets Review training is always considered as the best method to perform a full range of exercises that requires much intensity and confidence.  Rubber Grip Olympic Sets are designed by manufactures having a piece of art in their mind.  As the Body Solid Rubber Grip Olympic Plates leaves every one behind in terms of quality, accuracy, reliability and price.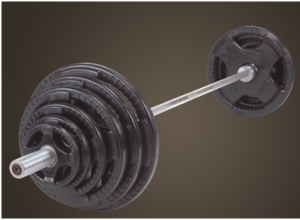 Table of Content:
Product Description
Specification and Features
Pros and Cons
Final Verdict and Review
Product Description
weight set designed by Body Solid which are specialist in making products that consist of good quality, durability, reliability and are quite budget friendly. In OSR500S there is a new Quad-grip design which  gives you satisfaction that while handling heavier plates Also giving a low impact noise these weight plates consist of a noise reduction technology even on bare floor. Though, floor padding is still required for surfaces having low concrete work in it.
Normally, the OSR500S Rubber Grip Olympic Setw ith Chrome Bar comes in three packages having different weight options, starting from 300lbs, 400lbs and 500lbs. Hereby, it is suggested for beginners to go for 300lbs package more because the number of plates in them is less and you'll be able to use them in your working regularly, despite having more plates in remaining two packages which you are not using in your workout and they are getting wasted eventually. The weight plates of the package in any set, comes in a small palletized crate on which the plates are arranged according to their weight Sets Reviews  starting from lowest to the top in ascending order. However, a pallet jack is required to make them come on your house door since the crate size is eventually heavy. There is one separate package for the bar along with spring lock collars, the bar comes in single piece. The bar is however very solid and hence it can withstand weight up to 700lbs.
Specification and Features
Ability to select from 300, 400, or 500lbs weight sets.
In each set there is one 7 foot long of weigh forty pounds Chrome plated Olympic bar along with two Spring lock collars.
The plates are covered with Heavy Duty beefy rubber which is very durable and prevents scrapping or damaging to the plates along with walls or floors.
These Olympic Plates are impact resistant which will not crack, peel or split.
There doesn't stand a chance of having chipping, rusting or losing the color from plates.
Smooth, tight and secure fit is provided with the help of integrated metal sleeve on this Olympic bar.
A 2″ hole is situated on all Olympic style weight plates.
Final Verdict and Review
There were some minor issues though when I first receive them like the smell of rubber was very strong from the plates and they were looking a bit oily too. But from time that smell also fades eventually or in any case if they don't, then it is suggested to wash them with vinegar or dish soap then keep them dry for a day or two.
I was very happy with the purchase because everything came in with a fresh extravagant quality and there wasn't anything busted in my shipment, which was good. The bar is very heavy and strong which can withstand a lot of weight. Keeping aside the issue of starting  set and the fact slowing down of workout by spin lock collars, the weight set by TNP Accessories are highly recommended for any beginner. Its price, its quality, its Weight Sets Reviews 2018 all are phenomenal and have the ability to surpass any weight set available in the market that are specifically designed only for beginners. Overall my verdict and the reviews of users on internet are very positive. While also working with the bench, it's an ideal set for beginners. The barbell is very solid and quite easy to assemble. It can even have more additional weights then the weights which are provided with the package. Hence, big things short, great value of money!
Pros
This Olympic set is very budget friendly.
The bar is of very good quality, which have the ability to withstand weight up to 700lbs.
The plates provided in a set consist of High quality rubber plastic which can handle any wear and tear of regular gym abuse.
The weight range given with every package is phenomenal, starting from the lowest weight of 2.5lbs which can go up to 300lbs.
Quad grip design makes the handling of bar very tightly and shows no chance of slipping while working out.
Cons
There is a very bad rubber smell coming from the plates at the time when the package arrived new and fresh.
The shipping package is too heavy which comes in only one pallet.
No storage case provided for weight plates as there are around 20 weight plates in 500lbs set and it becomes difficult to move them around altogether.