Bowflex Select Tech 1090 Adjustable Dumbbell Review
Over the years, people are switching to workout at home rather going to gym because it saves time and because Innovation in technology has let  exercise equipment manufacturers to undergo a further change. This change has come up in the face of Adjustable Dumbbells Reviews and I'm going to tell you about Bowflex SelectTech 1090 Adjustable Dumbbell. Before  SelectTech 1090dumbbells were usually old school made of Cast Iron and though were adjustable too but they required a collar in end which was not trustable for weight to be fallen down in middle of exercise. Many people faced that situation though. When it comes to saving space, Cast iron weights are impressive, but they require lots of space and variation of weights. Making the consumer to feel congested and not budget friendly.
SelectTech 1090 dumbbell is capable of replacing up to seventeen Cast iron dumbbells.Perfect for anyone that who is a fitness lover but do not have enough budget to purchase variation in cast iron dumbbells in fact he can invest one time on SelecTech 1090 and can workout at home easily.
Bowflex released SelectTech 1090 after seeing the popularity of SelectTech 552. The special feature in this model was regarding weight range. Though it got nearly same feature as of SelectTech 552 but with a weight range from ten lbs. to ninety lbs. people starting calling SelectTech 1090 the big brother of SelectTech 552. With same adjustment dial system they pretty much looked identical. I used Bowflex SelectTech 552 and after experiencing its outstanding features later I decided to go for SelectTech 1090, so here is a detailed review regarding Bowflex SelectTech 1090 Adjustable Dumbbells.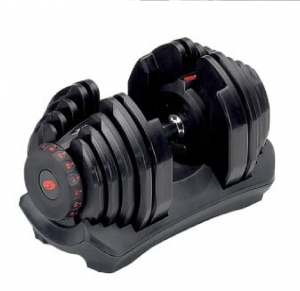 Table of Content:
1: Product Description
2: Specification and Features
3: Pros and Cons
4: Final Verdict and Review
Product Description
In SelectTech 552 the weight range maxed out at 52.5 lbs. , Hence, despite of its dial adjustment system professional weightlifters wasn't able to get more benefit from it. After one year, Bowflex released their new model SelectTech 1090 with exact same features of previous one but increasing the weight range to ten lbs. ninety lbs. This innovation by Bowflex in such a short passage of time was very brilliant and since then this new innovation ruled the dumbbell market by far. Even, trainer and athletes declared SelectTech 1090 a must have gym equipment in home or gym. The Bowflex SelectTech 1090 offered a very wide variety of weight range, starting from ten lbs. to ninety lbs. per dumbbell. With five lbs. increment the weight is adjustable to give 17 different weight settings.
Specification and Features
Provides a weight range of ten to ninety lbs. per dumbbell.
Gives an increment of five lbs. per setting.
Six week money-back guarantee.
Comes with bonus workout DVD.
Have Dimensions of
A type of Adjustable dumbbell that does the work of several traditional dumbbells in one.
Good for basic strength and toning exercises and heavier leg lifts
Smoothness is created by durable molding.
Pressure is relieved through stands and helps you toavoid injuries.
Final Verdict and Review
For me working out with Bowflex SelectTech 1090 dumbbells was a great choice. Bowflex SelectTech 1090 . As being a regular weight, I required more weight than the previous version, which really made me buying SelectTech 1090. When I bought them I was very happy because the weight range of ninety lbs. Adjustable Dumbbells Review 2018 completed my differences.However, these dumbbells can't withstand regular gym abuse if you want that too then you should go for Ironmaster Quick-Locks or Power Block Dumbbells. The first issue I faced with SelectTech 1090 was its bulky size which made lifting a bit awkward. This issue came in both series, a long size due to dial adjustment and bracket system. The 1090 is Eighteen inches long which makes them pretty  longer than any other dumbbell I've came across. At the time of exercise, it was difficult to get the muscle squeeze which certain exercises require. Hence, the length will be surprising for you at first but you'll also get used to it after some time.
One minor issue was that the steel grip of Select Tech 1090 is a bit rough. You won't get a feel of traditional dumbbell in such grip because it's not properly etched. The grip did a digging in my hand when I've been using the heavier weight more. Thank God I was able to fix this issue by wrapping a rubber tape around it or even I started wearing gloves to never have that issue again. The Final issue which I didn't experienced but many people on Amazon posted about it. They said that weight plates are not properly locking onto the dumbbells and keeps on falling during exercise. Therefore, this isn't really a common issue but still I'm making you sure that look upon that too while purchasing.
Pros
Affordable.
Very compact home gym setup
Offers a good range of exercises (30+)
Comes with Bluetooth connectivity.
Doesn't make much noise than metal dumbbells
Cons
larger size produce a bit awkwardness during exercise.
Dropping too much can damage weight brackets.
Sharp steel can injure your hand.
Traditional dumbbells shows more versatility.
After one to two years dial malfunction is expected.