C-70 Bar by Rogue Fitness Review
Rogue fitness, is one of my favorite gym equipment companies who manufacture barbells, dumbbells, weight plates and many more to have most of my lifting routine. Rogue is now considered to be providing one of the biggest range of gym equipment construction in present time. Along with their barbell lineup, which comes in a variety of range and shows great performance.  Every rogue bar is different from the other in either way. The difference is mostly in terms of size, features etc. which are minor ones and deals only on bar looks and design. Furthermore, the recent invention of new steel by USA, is used on bar shafts of Rogue, hence showing no physical change among the bar. Thus, Rogue doesn't sell bar that consist of so many functional differences. The Rogue C-70 Bar is basically a shorter bar which is constructed with exactly the same, 190K PSI Strength Steel, as the Rogue's Ohio bar. With a length of only 70″ and a weight of 35LBs, this bar is perfect for anyone who wants to save space and train people who have shorter height. The handles of C-70 Bar is designed in such a way to allow for snatch grips and able to get racked in squat rack, quickly as possible.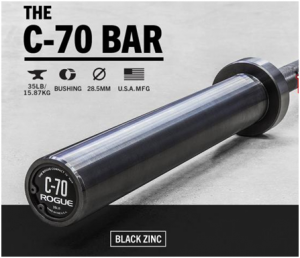 Table of Content:
Product Description
Specification and Features
Pros and Cons
Final Verdict and Review
Product Description
Just like the original Rogue Bar, the C-70 Bar provides a convenient dual knurl marks for both multipurpose and technique, which are having a black zinc sleeves and black zinc coated shaft. With the increment of grooves in the sleeves, it helps athletes and coaches to easily recognize and differentiate barbells by changing out their bands. The bar arrives having standard Rogue-branded bands, but you can easily change them with any color which is added in package. You can even use any personalized, customized band that is equivalent to its dimensions.  Rogue follows a policy of shipping the equipment on the same day if they are placed by 3PM. The Rogue Shipping System provides you to keep a track on your order, just by the time you places it till the time it comes to your door.  Every Rogue C-70 Bar is engineered and assembled in Columbus, Ohio, and comes with a three year warranty against bending and breaking. Warranty against bending won't be claimed, if any bar is defected due to faulty or negligent use, maintenance, alteration, handling or storage by the user.
Specification and Features
The bar is men's type bar especially.
The use of the bar is for multipurpose and technique.
Bar consist having a weight of 16kg.
The bar have a diameter of 28.55mm
The bar consist of multi knurling and have no center knurl.
There are two knurl marks presented on the bar.
The shaft coating on the bar is of Black Zinc.
Bar have a loadable plate sleeve length of 12.00"
The coating on the sleeves is of Black Zinc.
Have a tensile strength of 190,000 PSI
Comes with a three year warranty, with certain terms and condition to follow.
The bar is constructed in USA.
Final Verdict and Review
This was the first Rogue Fitness bar I purchased and in very short time I got used to its quality, comfort and stiffness. I use this bar through the paces for which I planned to use it, weightlifting against with powerlifting workout. I'm able to do both type of workouts with C-70 bar. It gives a great movement through both snatch and power cleans. Though, right now I don't have an access to bumper plates but seeing the reviews of other people, Rogue's quality of bumper plates aren't up to the mark as compared to barbell, so I avoid buying them.
The bar saves a lot of my space while doing power cleans and snatches, due to its shorter length which is perfect. There isn't any cheap stuff regarding its shorter length in fact, when you'll use it, it is going to give you the exact same feel of standard Olympic Size bar. The bar is made of Heavy Duty solid, which I use it to perform WOD 2-3 times a week. The black zinc coating does chips off the sleeves but the feel of lifting and comfortability isn't affected by it at all. I can perform overhead snatches and squats with the barbell, and it helps me to improve my shoulder movement, which was my main concern. Hence, the stiffness of the bar won't be correctly judged, unless you do some heavier lifting like above 225lbs. Overall, a compact, solid and high quality piece of equipment by Rogue Fitness.
Pros
The bar have the tendency to do overhead squats and snatches, thus improving your shoulder movement too.
The knurling of the bar is very soft and comfortable in hands.
Saves a lot of your workspace because of its compatible size and length.
Women can also use this barbell easily because it is easy to carry and comparatively lesser in weight.
The shorter length provides a good whip and spin.
Cons
The black zinc finish chips and wears off after a certain time due to sliding of plates on and off from the bar.
To maintain its good condition, you need to brush it down along with oiling every week.
The bar is comparatively expensive even after having a shorter length.
The warranty of the bar should be increased from 3 year to at least 5 years.