CAP OB-86B Olympic bar Review
CAP is famous for making gym equipment for commercial fitness facilities and individual home owned garage gyms to fill out a large retail space with trusted and certified equipment. Though, CAP Barbell is mostly recognized for producing strength training equipment along with the manufacturing of one inch or two inch plates,barbells, kettle bells, dumbbells, squat stand and many storage accessories. CAP barbell has been renowned for creating many different barbells with great quality and extensive features in the past. The new CAP OB-86B Olympic bar is one of CAP barbell's production which is made of superior quality and comes in a very budget friendly price.  The barbell offers high end features which are very difficult to find in a low cost barbell. The bar also consists of positive feedbacks and reviews on different sites such as, Amazon, Walmart and EBay, making it a very popular barbell in gym equipment market.
The CAP OB-86B consists of high quality features and specifications.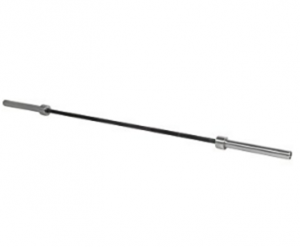 Table of Content:
Product Description
Specification and Features
Pros and Cons
Final Verdict and Review
Product Description
The OB-86B by CAP barbell is specifically designed for power lifting and is not really recommended as Olympic or multi-purpose bar. The bar consists of only IPF knurl mark, while missing knurling in snatch area makes the rotation of sleeves very poor. With this affordable type of bar, the knurling is pretty good. Having a comfortable knurling, doesn't really damage your hand. The knurl provides a secure and firm grip while lifting moderately heavy sets. Though there is big matter of concern for tall heighted people as knurling is very close towards the sleeves. The outer handling grip is very less knurled and creates a lot of problem while performing exercises such as snatches, cleans and dead lifts.
The OB-86B consists of a pretty low tensile strength having a rating of 130,000 PSI, which is pretty enough to withstand heavy weights. It has the yield strength of 120,000 PSI, which is not really specified by company asits general specification and feature.As stated on specifications, the bar can withstand weight up to 1000 pounds which is massive for many weight lifters. Though an ideal weight for many lifters is 350 or 225 pounds on bench press and squats. The OB-86B barbell is a low priced bar, so expecting needle bearings isn't really the best to thing to consider. The OB-86B consists of steel bushings which give a very good and repetitive action while lifting medium weight. Though an overwhelming support isn't really expected with this low priced equipment but still the whip and spin is adjustable to be used.

Most of the high priced barbells consist of pin system which really expands the work of user, by tightening of collars during exercise. Also, there is a huge chance of disjoint sleeves from the shaft during high intensity workout. Instead of that, modern horseshoe and snap ring design is used which makes the movement of sleeves much easy and sturdy. The coating on the shaft is done with black phosphate which gives a very attractive and eye warming look while preventing the bar from rust and corrosion. Phosphate is one of the essential materials to coat the shaft because if its moderate oxidation rate in humid regions and the ability to withstand wear and tear of regular gym abuse. The sleeves of the barbell consist of bright zinc finish, which I think is done to prevent the bar from getting scratches and chipping off while loading or unloading the weight plate. It is recommended to maintain the sleeves properly because they are easily rusted and have a high oxidation rate in humid regions. Applying WD-40 and three in one oil may reduce this issue while keeping the bar in new and fresh shape. The OB-86B Olympic barbell comes with a three year manufacturer warranty along with thirty days money guarantee. These two factors show that how CAP Barbell is backing up with its product and providing great customer service through answering users queries, complains and feedbacks.
Specification and Features
The weight of the bar is 20 kilograms.
The length of the barbell is 86 inches.
The diameter of the shaft is pretty standard and is 28.5mm.
The diameter of the sleeves isalso very standard and is 50mm.
The CAP OB-86B is a bushing bar which is constructedwith steel and gives a good rotation.
The finish on the shaft is done with black phosphate.
The finish on the sleeves is done with bright zinc coat.
The bar hasa tensile strength of 130,000 PSI.
The yield strength of the barbells is 120,000 PSI.
The CAP OB-86B comes with a three year manufacturer warranty along with thirty days money back guarantee.
Final Verdict and Review
In my opinion, the CAP OB-86B by CAP Barbell is a pretty impressive barbell having features and specifications same as any other barbell but comes with an affordable price that simply out stands this barbell very much. I purchased this barbell for my son and my experience was not really up to the best level. The barbell came on my doorstep within a week in a very bad packaging. I opened the package and found the barbell in a good shape and the black phosphate shaft looked very eye-warming and impressive. Also the bright zinc sleeves prevented the bar, big time from scratches when loading and unloading of weight plates. When I started using the barbell inmy workout, I experienced that the barbell worked very well in low and moderate weight set, but as I increased the weight, the barbell showed great discomfort from the whip and spin end which came out to be very bad.  Overall, the CAP OB-86B is a satisfactory barbell which isn't really recommended for long term use.
Pros
The price of the bar is very affordable.
The knurl and phosphate finish gives a very appealing look and design.
Having no pinning, prevents the tightening of collars.
The knurl on the barbell is very moderate that doesn't tear up your hands and can be used without wearing gloves.
The barbell comes with a corrosion resistant finish.
Cons
Center knurl isn't provided which makes the bar difficult to re-rack and to perform cleans and snatches.
The tensile strength is very low and professional weight lifters would notreally use this barbell due to its less weight capacity.
Comes in bad packaging on long tubes that are very light duty.
The steel bushings need great maintenance to let the bar perform well for longer period of time.
The spin ad whip of the barbell is of very low quality.