Giantex 66 LB Adjustable Dumbbells Review
When searching for a new set of dumbbells, the most important thing is to do some research about its features and specification. The most important factor after features and specification is the reviews that people give for the product after using it because from them only you'll know how that product really works and feels. Adjustable Dumbbells by Giantex will surely fulfill your needs of getting a new pair of adjustable dumbbells for gym or home because they comprise of great features and also they are very much affordable. There's a great set of response on Amazon, by the users who have used this product so this review about Giantex 66 LB Adjustable Dumbbellswill be pretty helpful for you on making a purchase.  A Brand new Health gym equipment by Giantex will provide a great addition in your home or gym. As these set of dumbbells will keep your body fit and will make you capable of performing variety of exercises to start with. Like, Arms, legs, chest and back. Also, it will prevent the need of going to the gym, hence saving your time and money respectively. Giantex 66 LB Adjustable Dumbbells Review comes in the most popular demand category of Adjustable dumbbells in the world and to prove that I've assembled the data by my opinions, reviews and products itself specifications.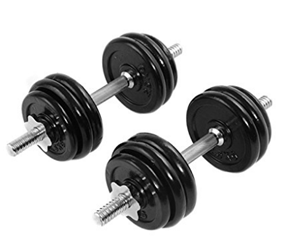 Table of Content:
Product Description
Specification and Features
Pros and Cons
Final Verdict and Review
Product Description
Giantex 66 LB Adjustable Dumbbellsare made of high quality Cast iron which comes in a black paint finish. Hence, there is no choice of rusting in these dumbbells because the paint is of extreme high quality.  In one set of Giantex 66 LB Adjustable Dumbbells you will be provided with two sixty six pounds of adjustable dumbbells having four plates of 1.5 kilograms, eight plates of 2.5 kilograms, with two firm rods and four buckles. The weight limit should be considered first before the weight range as there is no dial adjustment system present in these set of dumbbells. The Handles and Collars are etched very properly for a secure and firm grip. The material of metal plates used is Durable Cast Iron and because of this they won't break very easily. Cast Iron can handle normal gym abuse and can withstand accidental drops or falls with only giving some scratches. The spin collar lock on each dumbbell secures the plates really well by minimizing the effect of wobble during workout.
The Giantex 66 LB Adjustable Dumbbells have proved to last longer because each part is constructed with great focus and stiffness which clearly tells that these dumbbells can withstand regular gym abuse. With great quality, these dumbbells are also very budget friendly.  Giantex 66 LB Adjustable Dumbbells can be bought with a low and reasonable price. Highly recommended for beginners who are looking for some affordable and durable set of equipment to kick start there workout.
Giantex 66 LB Adjustable Dumbbells are perfect adjustable dumbbells for your home gym because you can perform dozens of exercises with varying weights without taking up a lot of storage space. Anyone who is a fitness lover doesn't have proper equipment and space at home to purchase dozens of different dumbbells. Hence, Giantex 66 LB Adjustable Dumbbells Reviews 2017 are small, convenient and easy to store giving wide range of exercises with variety of weights too. Making it one the best and a must have equipment. Hence, there are also some disadvantages regarding Giantex 66 LB Adjustable Dumbbells but the affordability and quality overcomes them. Giantex 66 LB Adjustable Dumbbells comes with a great shipping time as I received them three days before the actual shipping arrival date which was really good. Though, Giantex should look upon its packaging as in the box in which these dumbbells were arrived was all tore apart because of heavy weight plates.
Specification and Features
Plates are made up of Cast Iron with a Steel rod having black paint on them both.
The size of the steel bar is seventeen inches long and have a diameter of one inches.
Comes with weights of four 1.5kg plates, eight 2.4kg plates along with two steel rods and four buckles.
Plates are secured with a spin lock collar which keeps them at their place.
Quick shipment from Amazon within a week.



Final Verdict and Review
In my opinion, Giantex 66 LB Adjustable Dumbbells are one of the best adjustable dumbbells present in the world. As, the competition of adjustable dumbbells regarding special features is on increase day by day but still Giantex adjustable dumbbells provides great factors of cheapness, durability and vast variety of weight set which makes them a necessity to be in your home as well as fitness gyms. It's a pretty obvious thing if you are getting a set of adjustable dumbbells which is providing you super cool basic factors so there would be a lack of some special features as well. Like in my experience, the quality of Rubber washers and Screw caps was very cheap and there was a frequent issue with falling of rubber while changing weight. Though you are been provided with extra Rubber washers but why not give only a good quality of rubber at first place then providing cheap ones with quantity? Also it requires time to change them.
As mentioned on product specifications and features you are been provided with secure fit collars but in my experience the collars are not really that secure fit. There is a wobbling of weight after several reputations and the collars need to be re-tightened. Since, this is not really a massive problem if you are looking to its factors and price tag it's just a very rare issue I faced. The length of the bar is very awkwardly long as far as I'm concerned. I know the manufactures have done this to adjust all the plates if you are requiring 100 lbs. or more but it makes the exercise very difficult when you are going with few plates. Like when I use to perform an exercise of shoulders, there was a clanging of both the dumbbells in few reps which made my form to go worst and ruined my consistency very much. This is a very important issue I faced. Overall, purchasing Giantex 66lbs. Adjustable dumbbells Reviews 2018 will be a good choice to save home or gym budget. But if you still have the budget to get access of more features then you should probably look for any other adjustable dumbbells like Bowflex.
Pros
Provides variety of many dumbbell which you find on gym in one single unit.
Very affordable.
Gives an extra space even after you are maxed with hundred pounds.
Gives a bossy look with that black paint on it.
Plates are in good old school shape.
Cons
Needs Re- tightening of Collars after few reps.
Comes in a bad packaging
Requires time to change weight repeatedly.
Cheap rubber washers are used.
Weight bars or handles seems to be a bit long which prevents you to perform some exercises.