InfiDeals Adjustable Cast Iron Dumbbells with Solid Dumbbell Handles Review
Dumbbells are an essential gym equipment because they are inexpensive weights which are versatile, convenient and easy to use for enhancement of your body. With the number of weights and number of repsthere is also a pace to set up for work out. Through taking all these things into account you can build muscles and increase mass. For toning up and building muscles, InfiDeals has introduced new Adjustable Cast Iron Dumbbells with Solid Dumbbell Handles which will help you to achieve your goals. InfiDeals Adjustable Cast Iron Dumbbells with Solid Dumbbell Handles give you the opportunity and choice of building the type of body you want. Taking affordability into consideration, these dumbbells will allow you to carry out different exercises in the bestpossible way and by adjusting variance in weights. InfiDeals Adjustable Cast Iron Dumbbells with Solid Dumbbell Handles, as compared to other dumbbells  give you a comfortable and traditional dumbbell feeling. While most of the Adjustable dumbbells Review in the market cause inconvenience and uneaseregarding their length but surely this won't be a factor to worry about in Infideals Adjustable Dumbbells.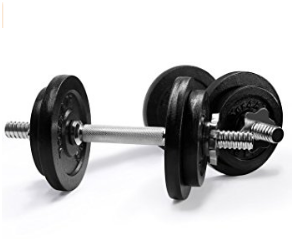 Table of content:
Product Description
Specification and Features
Pros and Cons
Final Verdict and Review
Product Description:
The low cost Adjustable Dumbbells by InfiDeals are highly rated and an effective gym equipment for growing muscles. With solid steel and chrome plated finish the look on the handles becomes great and durable. It also resists the plates from getting rusteddue to sweat and moisture. The etched handles make sure that the grip is tight. Durable Cast Iron is used in the manufacturing of metallic plates and have a semi-gloss finish with corrosion resistant paint. Still, there is a chance of chipping of plates but that isn't really the functionality of these great dumbbells.
If you are getting Adjustable Dumbbells by InfiDeals you'll get the following regarding metal plates and weights. A forty pounds dumbbell set which includes two textured chrome handles, four collars, four 5lbs. metal plates and four 3lbs. metal plates. A fifty pounds set includes two 4lbs. handles with collars, four 3lbs. metal plates and four 7.5lbs. metal plates. A single 52.50 lbs. dumbbell incudes one durable fifteen inches solid steel etched chrome handles along with collars, eight 5lbs. metal plates and two 1.25lbs. metal plates.A sixty pounds set include two 4lbs. handles along with collars, four 5lbs. metal plates and four 8lbs. metal plates. The dimension of the handle is standard and has a diameter of 1.25" . making the adjustable dumbbells very much interchangeable with appropriate weight and standard dimension size.
Weight adjustment is done manually and spin lock collars are used to screw the weight plates and securing them tightly. Rubber washers are provided which give a tight fit without any use of tools. Tightening of plates make the plates to not move while lifting and especially doing curls. Adjustable Dumbbells Reviews 2017 by InfiDeals come with a good price and quick shipping time. Benefits from such good quality of dumbbells are thespecial features which are more than expected. Hence, this product is highly recommended for people who are looking to start a quick home workout or at gym. Women and wives can also have a chance to use these dumbbells because of theireasy weight adjustment system. They can easily workout at home without the need to worry about injuries or heavy weights. People between 60s also can feel that old school look from these dumbbells which can help them to maintain their posture and shape even at that age. The money you are paying is surely justified by these dumbbells and you can see that after seeingtheresults with muscles.
Specification and Features
52.5lbs. includes a Solid etched chrome handle with eight 5lbs. plates; two 2.5lbs. plates; two 1.5lbs. plates and two collars.
Collars and handles are etched to give a secure and tight fit.
Cast Iron is used for the construction of plates
Solid Chrome handles makes the Cast Iron look durable.
Can be set up very easily and conveniently using hands.
No additional tools or equipment required.
Two holes on weight plates exactly fits in the bar.
Diameter of  holes is 1.25 inches.
Handle has 1.25 inches diameter.
Final Verdict and Review
InfiDeals Adjustable Cast Iron Dumbbells with Solid Dumbbell Handles haveremarkable features and specifications which are highly recommended. Using these dumbbells, various exercises can also be carried out. These dumbbells are excellent for even people who are a bit old and with the passage of time, their body has become flabby and dull in shape. One of my uncles started using in early fifties.Starting from weight training to following a proper exercise routine he wanted to search for some good adjustable dumbbells. I suggested him the use of Infideals Adjustable dumbbells because not only they are inexpensive but they are also good quality. The use of spin collar gave him a positive feel of traditional dumbbells too because back in time he was using the L bolt collars which werefairlytricky to manage but spin on collars looked very much secure. The nicely etched handles provided a good and firm grip. Any plate with a diameter of 1" hole is adjustable on the grip so you can even further increase the weight. Therefore, there were some people who said that the plates are not up to the mark and are hence cheap. I don't think so because, they were in good round shape and were painted well dark- black so I don't really acknowledge that.
For beginners, Infideals adjustable dumbbells are very much recommended because in start they should start training athome and hence they seem not to be very much strong so lower weight is suggested to work out and except buying different variance in dumbbells and weight they should go for Adjustable dumbbells Reviews 2018 which are far more economical too. There was a minor issue with me regarding the movement of plates.In some cases, while I was lifting I was very quick to correct the issue. Plates are painted black and there might be a scratching of plates after some time. There is also an issue of falling of rubber stoppers when you are installing weight plates. Overall on Amazon and many different sites the products got an average of 4.7 stars out of 5 which makes them an excellent choice to pick from the category of adjustable dumbbells. So far I didn't havesuch major issues and there was pretty much good response from the buyers too which means they are one of the right choices to choose from adjustable dumbbells.
Pros
Easy to Install and switch out.
Very Easy to use.
Budget Friendly with good quality.
Rubber cushion makes the weight to grip properly.
Etched handle at center gives a tight and secure grip.
Cons
Rubber stoppers fall out.
Tightening of screws is required after each exercise.
Threads ends must be a an inch shorter.
Storage case should be provided to keep the weight well organized.
Takes time to change weight.