IronMaster Quick-Lock Adjustable Dumbbells with Stand Review
The new quick-lock adjustable dumbbells have caused a complete change in adjustable dumbbells for every age. Due to the fact that it helps you to switch from one exercise to next without wasting the time after each set. Ironmaster Quick-Lock Adjustable Dumbbell comes inbest quality by such a renowned company which helps you to perform your workout as quickly as possible. These dumbbells are very user-friendly because they fit with people of every age. Therefore, giving tendency to increase or decrease weight at any time. Ironmaster Quick-Lock Adjustable Dumbbell gives an eye warming design which is totally cool. The work done on these dumbbells as well as its stand is a piece of modern art. Not only they are cool but their weight adjustment system is beyond the capabilities of other adjustable dumbbells present in the market which makes them one of the best adjustable dumbbells. The real reason behind the design of Iron Master Quick-Lock Adjustable Dumbbells Reviews , is that the company wanted to give a traditional dumbbell feel to users even in this modern time where adjustable dumbbells have taken over. Also, these dumbbells come with no such restrictions, so that means your workout will be more productive and efficient.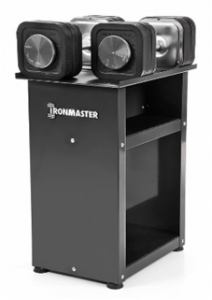 Table of Content:
Product Description
Specification and Features
Pros and Cons
Final Verdict and Review
Product Description
Ironmaster Quick-Lock AdjustableDumbbells belong to the latest generation of adjustable dumbbells. With its new invention of quick lock design, you can easily adjust the weight from five pounds to seventy-five pounds in just fifteen seconds,giving you a feel of whole dumbbell set of traditional dumbbells at home by just purchasing two of Ironmaster Quick-Lock Adjustable Dumbbells which give no restrictions, wobbling of weight and other safety concerns. The set of Ironmaster Quick-Lock Adjustable Dumbbells comes with a dumbbell stand which is included in the priceof these dumbbells. The stand keeps the dumbbells well organized and safe. In one set of Ironmaster Quick-Lock Adjustable Dumbbells  there are two handles with four screws for locking of plates. In addition, there are twenty-four 5lbs. weight plates and four 5lbs. weight plates with the dumbbell stand. The starting weight of each dumbbell without any weight plate is ten pounds because of handle and screw weights which are five lbs. and 2.5 lbs. respectively. So, around sixty-five pounds of weight can load up on each handle and if you look in the instruction manual, it says that you can go up to one twenty pounds of weight on each dumbbell which is pretty massive and heavier too.
Most of the adjustable dumbbells are not designed in such a way that can give users a proper form while lifting heavier weights like powerblock dumbbells. By not giving a bulky look, it is very difficult to perform exercises like curls, shrugs which require a good movement of dumbbells. However, Ironmaster quick lock adjustable dumbbells don't compromise in this feature because they know how people should feel regarding the dumbbell design. That's why they gave their dumbbells a square shaped plate which helps mostly in basic curls and similar of those exercises. Basically, Iron Master Adjustable dumbbells Reviews 2017 come with a wide variety of weight options which is optimal for beginners and professionals. The flexibility which is provided by these dumbbells is without doubt amazing. With the product dimensions of 6.5" by 6.5" by 14.5" at seventy five pounds weight it gives you nearly all features of any traditional dumbbell too but effectiveness of working out is very much next level. With no plastic parts or any breakable component included, these dumbbells can handle any wear and tear. This is the reason why Iron Master Quick-Lock Adjustable dumbbells are one of the best adjustable dumbbells in 2017.
Our body needs quick set of exercises with varying weights in order to reach its higher potential. That's why most of the exercises developed or designed by personal trainers include fast motion with no rest between firstexercise and second in order to perform such highly intensive workouts. Since these two options are not budget friendly, Iron Master Quick Lock adjustable dumbbells is budget friendly and provides you a quick adjustment system in weight options with fifteen different weight settings and it saves a lot of your home space. So there is no need to have a monthly membership or spending extra People who live in houses and only have a limited amount of space for working out, should look towards Iron Master Quick adjustable dumbbells to solve their issue. These dumbbells come with a solidly built stand which acts like a table to these dumbbells and allows you to keep the dumbbells at their place inwell-organized manner.
Iron Master Quick-Lock adjustable dumbbells are constructed with high quality material and gives greater longevity. No plastic or breakable parts are included so they can handle regular gym abuse. The product comes with a one-year warranty which is also a plus point of these dumbbells.
Specification and Features
Quick-Lock design adjustable from five pounds to seventy-five pounds with an increment of 2.5lbs. in just 15 seconds.
Constructed with Heavy Duty Steel and chrome plated handles.
Two seventy-five pound dumbbells are included in a set.
Sturdy stand with exercise posters also included.
Saves a lot of space by taking less than two square feet.
Gives a limited one-year warranty.
Final Verdict and Review
Before purchasing these dumbbells, I looked upon its extravagant features, details and information of this product. But most importantly, I went through hundreds of review to see how people really felt after buying and using these dumbbells. So it's important to know that type of information before buying such product having an average price. Though, customer reviews were very positive and they also stated Ironmaster quick lock as one of best adjustable dumbbells Reviews 2018 in the world. So I ordered them and hence felt very positive and satisfied by the quality of this product One of the things that I liked the most in these dumbbells is that they do not rattle whatsoever. It means that these plates are tightly constructed which is easier for the customer use in heavier weights. Also, it gives a feel oftraditional dumbbells to old fitness lovers. Hence, they are great value of the price which I paid and are perfect for gym of any size. The Ironmaster Quick-Lock set can be purchased online at Amazon, Walmart, Ebay and other stores. If you are looking for a Heavy-Duty, balanced set that will lead you to build greater muscle tone, then Ironmaster Quick-Lock setis the safest and best option to go for.
Pros
Ability to switch weights within fifteen seconds.
Takes very less space.
Quick lock design makes the weight adjustment very easy.
Welded steel and Chrome plated metal shows greater durability.
Very portable.
Cons
Not designed for quick changing exercises.
Takes calculation in order to adjust the desired weight.
Not one of the easily affordable adjustable dumbbells.
Design may not catch the attention of some buyers because of square shaped weight plates.