Marcy Classic Eco. Olympic Weight Set Review
Impex Fitness is going forward on doing innovations in today's fitness marketplace. The equipment in which they are specialized are smith machine, home fitness style equipment by which the whole family can catch benefits of a healthy workout experience. Impex also surrounds itself with a variety of brands like Competitor, Marcy, Easy Outdoor,Hers and Gym Dandy for children. Impex knows that the family's health is the first and highest priority to maintain and with that understanding, Impex fitness makes great effort of creating the most newest and innovative fitness equipment available. Just like they created Marcy Classic Eco Friendly Olympic weight set.
If you are better than everything surrounding you starts to look better too, with the eco-friendly Marcy Classic 300lbsyou get both of these things.  This weight set is made of environmental awareness and recyclable iron. Having non rust plates with a handy three-hole grip design the Weight Sets Review of Marcy Classic certainly looks beyond people's expectations. It is also provided with rubber bumper to keep the bar and weight stable as possible. A set includes one barbell, with fourteen weight plates and two spring clips. All these components come with two ayear manufacturer's warranty.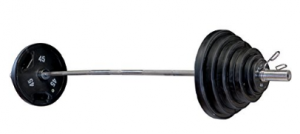 Table of Content:
Product Description
Specification and Features
Pros and Cons
Final Verdict and Review
Product Description
Marcy Classic Eco Olympic Weight set  is essential to perform a workout of back, chest, arms, legs and shoulders. Marcy Classic Eco Olympic Weight Set is one of the most used products by many people due to its extravagant features and quality. The Marcy 300 lbs. eco Olympic weight set comes with a seven-foot-long bar which is broken into two pieces. Along with 300lbs of weight plates filled with concrete and covered with vinyl coating, thecast Iron weight pates prevent the plates getting rusted and are made from recycled material. Thus, providing extra protection to the plates due to vinyl while holding them. Each weight plate comes with a cutout grip to make the loading and unloading very easy. Hence, preventing the use of oiling each time.
In one set of Marcy Classic Eco, you'll be provided with a seven foot bar, two spring collar clips and with massive fourteen number of plates. In which there are two 2.5lbs. plates, two 5lbs. plates, four 10lbs. plates, two 25lbs. plates, two 35lbs. plates and two 45lbs. plates. A total weight of 300lbs. is a very big and heavy number to handle.There is also an assembly manual which will help you to assemble the bar properly so that they don'tget broken down while lifting heavy weight. With the owner's manual you'll make sure that the correct description along with warranty claiming process is provided. The length of the bar is 85" which is quite long and gives you the authority to add more weight over 300lbs. too because there is plenty of space left after the maximum limit. The grip of the bar is properly etched and threaded to give a firm and tight grip while lifting. The texture of the grip may damage your hands, so it is recommended to use gym gloves or apply white powder to prevent your hands from getting rough.
Lastly, the company Marcy also gives a two-year limited warranty on all the parts which is a very good gesture by the company as they are standing and trusting its equipment. Marcy Classic Eco Olympic Weight Sets Reviews  is very compatible and can easily fit under your bed or couch when not in use. If you are having problem fitting the barbell, use a hammer to make them go in and the plates are very easy to carry around with three grip holes. The shipping standards by Hayneedle states that, there should be multiple fulfillment center locations like coast to coast for quick shipping. Quick shipping arrives in just two days. FedEx provides fast, efficient delivery having a choice of small parcel. Within 30 days, you can return unused, new and resalable items for an exchange or refund.
Specification and Features:
Manufacturer warranty – parts: 2 years limited
Product height (in.): 18
Product depth (in.): 85
Product width (in.): 18
Product weight (lb.): 300
Rust is resisted because of Cast Iron plates which are made from recyclable materials
Pattern of 3 hole grip on the plates
Includes an 85″ Olympic barbell, two 45 lb. Olympic-size grip plates, two 35 lb. Olympic-size grip plates, two 25 lbs. Olympic-size grip plates, four 10 lbs. Olympic-size grip plates and two 5 lb. Olympic-size grip plates
Also includes two 2.5 lb. Olympic-size grip plates and 2 spring-clip collars
Final Verdict and Review
When I first bought Marcy Classic Eco. Olympic Weight Set, I wasn't really familiar with them so I didn't start using them since I had amuch better weight set then these, but after nearly a year ago I took out these and started lifting weight on them. Though everything seemed to be perfect except the bar which was of weight 35lbs. hence, for me I don't consider this type of bar weight an Olympic bar. The weights were made up of metal and there was a series of bubbles on that position where we are supposed to grip them. Though I ripped my hand a couple of times but then I started wearing gloves and completely avoided touching that place. Every plate doesn't consist of bubbles but the Weight Sets Reviews 2017 plates of 35lbs. and 45lbs. do. From these plates getting splinters became quite regular to me though with only one or two session it's easy to remove. The end of the plate are very much sharp which makes the spring clamp difficult to fit on. Hence, buying lockjaw clamps solved my issue of spring clamps because they became annoying and frustrating to me.
One of the major issues is of my floor that it starts lifting deadlift and squats causing one of my collar to broke down. Though I'm not slapping the plates onto the floor neither I'm being too light on them but the etched holding with one of the collars is stripped and is not suitable now to use them for lifting. As the product description says, made of recyclable iron which isenvironmentally friendly. This statement is truly wrong because these plates are made of concrete having a cheap metal covering onthem. The paint starts chipping off once you place them on the floor.  The product is very misleading and of bad quality. Though it's suggested not to buy this product at any case, because it is not that the thing you will see in pictures, hence wasting your time and money respectively!
Pros
Affordable set providing good range of weights.
Fulfills the expectations of people who wants to lift a bit heavy.
Gives a two year warranty and thirty days money back guarantee.
Consist of an assembly manual which will make the barbell easy to assemble.
Three hole grip provided on the plate makes them easy to handle.
Cons
Weights are not made of iron, instead sand is filled inside the plates.
Low quality paint is used which starts to chip after several use.
Weight of the bar should be greater than 35lbs.