MTN Gearsmith HeavyDuty Adjustable CastIron Chrome Weight Dumbbells Review
MTN GearSmith are one of the renowned companies that know how hard it is to get your body in shape even though you are working out at home with limited space and money. The company has spent many years creating heavy duty dumbbells and advancing them with much better compactness, and hardness which can not only saves your space but also looks good and makes your workout experience enjoyable. The basic equipment you need to start working out are obviously dumbbells and Adjustable dumbbells Review are one of a kind which helps you to perform many exercises at home of arms, shoulders, chest and back. With same great benefits as expensive ones, these adjustable dumbbells are also very affordable.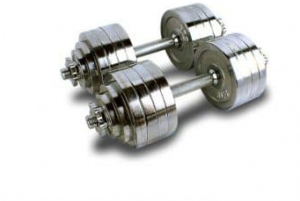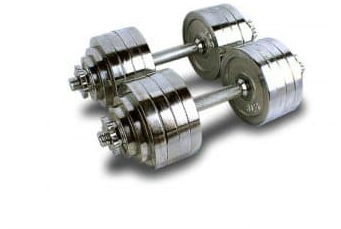 Table Of Content:
Product Description
Specification and Features
Pros and Cons
Final Verdict and Review
Product Description
There are two types of kit present, a single one in which you get one dumbbell of 52.5lbs. and one of 100lbs. in chrome or black paint coating. A double one in which you get a pair of two pieces of 52.5lbs. and two pieces of 100lbs. adjustable dumbbells. The handles and collars are etched very properly for a secure and firm grip. The material of metal plates used is durable cast iron because of this won't break very easily. Cast Iron can handle normal gym abuse and can withstand accidental drops or falls with only giving some scratches. The spin collar lock on each dumbbell secures the plates really well by minimizing the effect of wobble during the workout. Therefore, there is a chance of metal chipping in chrome version if you drop or bang the dumbbells very hardly.
The MTN Gearsmith heavy duty dumbbellshave proved to last longer because each part is constructed with great focus and stiffness which clearly tells that these dumbbells can withstand regular gym abuse. With great quality, these dumbbells are also very budget friendly.  MTN GearSmith's Dumbbells can be bought with a low and reasonable price. Highly recommended for beginners who are looking for some affordable and durable set of equipment to kick start there workout.  While ordering make sure that you are buying these from the MTN Gear because they provide free shipping. Also, there is a bit of confusion regarding pair and single set. If you want a pair, then you have a choice of either of 105 lbs. or 200 lbs. two pieces of dumbbells.
MTN Gearsmith's are perfectly adjustable dumbbells for your home gym because you can perform dozens of exercises with varying weights without taking up a lot of storage space. Anyone who is a fitness lover doesn't have proper equipment and space at home to purchase dozens of different dumbbells. Hence, MTN Gearsmith's are small, convenient and easy to store giving a wide range of exercises with variety of weights too, making it one the best and must have kit. Hence, there are also some disadvantages regarding MTN GearSmith but the affordability and quality overcomes them.
Specification and Features:
Comes is three models; 52.5lbs, 105lbs. and 200lbs.
Plates are made up of Heavy Duty Cast Iron.
Option to choose either Chrome Plated Version or Black Finish one.
Plates are secured with a spin lock collar which keeps them at their place.
The holes on plate are with dimension 1 5/32″  having bar diameter of 1 3/32″ .
Final Verdict and Review:
When I bought these dumbbells for my home use I was very satisfied. These heavy duty dumbbells have the tendency to adjust between five pounds to all the way up to hundred pounds for each dumbbell. Shipping was on time within a week and came in three boxes of seventy pounds each. There is one thing to look upon that there is strong chemical odor from the weights when I first opened it. Maybe it was of paint or something but I would suggest to unpack them in open air and let the smell out from the dumbbells. Or there could be one more suggestion to the manufacturers, that there should be an option of no paint at all to avoid such unwanted smell. But above all that, these dumbbells are perfect.
With quick shipment, these dumbbells are as good as they are described on MTN Gearsmith's website. For some people there wasn't even that chemical smell that I previously mentioned above which is a very fast noticing factor, WOW!  Even after making the plates fall for a few times there wasn't even any type of chipping stuff. One main remark I have to mention regarding plates fixation. Whenever I use to perform exercises which consist of curling of dumbbells and plates I notice that the lock collars seem to loosen a bit, so before starting the set I tighten them very much. However, it doesn't make the plate wobble or fall from the bar but after completing an exercise it makes an unpleasant sound after placing it the on mat or carpet which bothers me a lot and such minor issues need to be fixed too.
In my opinion, MTN GearSmith will show great durability because of its quality, stiffness and affordability. The adjustment features make you go from thelightestto heaviest weight within minutes, giving you more variance and motivation in your exercise and hence making you look healthier and bulky. The MTN Gearsmith Heavy Duty Dumbbell Set is a great investment with extravagant qualities for a reasonable and affordable price. With good reviews and high rates, it shows how much customers are satisfied from it. However, there might be some people who won't be satisfied by these dumbbells or they must be in need of weight of more than hundred pounds. So in that case, I would suggest you should look upon thePowerBlock Adjustable Dumbbells Reviews 2017 or Bowflex.
With great innovation and versatility,the Powerblock dumbbells are designed with very precision and dedication. Having a block or square shaped weights with the tendency of expanding upto more than thirty pounds each dumbbell makes the PowerBlock dumbbells miles ahead. With only after seeing it you'll start wondering that is it really a dumbbell?  With high price it gives you many advanced features and benefits,  but with a few drawbacks. Not really a set to be bought by beginners because of its high price but you should definitely wish list them in your future gym equipment.
Pros
Heavy Duty weights are well built.
With Rubber packing, clips are made very strong.
The amount of weight said by the company is exactly the same when it come.
Very Affordable.
Easy to Use.
Cons
Black coated paint is of low quality.
Chipping in Chrome plates are quite often.
Warranty is not given by the company.
Changing of weight takes time.
Breaks the momentum if you are performing a high intensity workout.