Power Pak Adjustable Dumbbells Review
Picking the right kind of dumbbells on this time of competitive dumbbell market is very hard. As there are tons and hundreds of dumbbells available in the market and they should be comfortable, durable and easy to use. Also they should be easy to adjust weight, modify and easy to store when not using. To make the decisions easy for you, I'll suggest you to use Universal PowerPak Adjusatble dumbbells because they have a great variety of weight range from four to forty five pounds which makes your adjustment very easier and fast while performing high intensities workout especially.
To make your exercise easier, the company provides you with a workout guide which will escort you with different exercises on individual days. These dumbbells will not only save your space, time and working out time but also they are made of high quality materials like thermoplastic handles and Cast Iron which are very comfortable to handle and provides a good steady movement. For daily use, they are very ergonomic, efficient to perform any exercise and are solidly built for any work out.  They do give a bit of clumsy feeling in start, when you first purchase them, but soon you'll get used to it and won't be facing such difficulties on performing exercises like chest press, curls and more.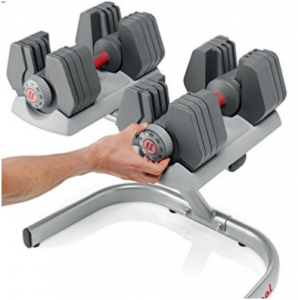 Table Of Content:
Product Description
Specification and Features
Pros and Cons
Final Verdict and Review
Product Description
The Power Pak dumbbells offers a weight range from four pounds to forty five pounds having five pounds increment per setting. They work same as like a weight stack of dozens of dumbbells at gym. The adjustment of weight is quite simple, you just have to rotate or move the weight selector at your desired setting. Lifting the handle, lifts the desired weight with you hence turning your ten pounds dumbbells into twenty, thirty or even forty pounds. The weight set used in Power Pak are one of the most affordable dial adjustment method present in the market which makes your money even worth it over long run.Power Pak Adjustable dumbbellsgives you independency to perform any exercise like bicep curls, triceps extension or bench press all under one single dumbbell set. Hence reducing the need of new dumbbells after every exercise and even cluttering your workspace with dozens of dumbbells.
The Universal PowerPak dumbbells provides one of the great varieties to be used to adjust different weight limits because in weight mechanism you just have to increment or decrement weight up to your desired value. Weight racks are used in Power Pak dumbbells to make them sit above the rack, and from there the only thing you have to do is turn the dial which will make the plates on the rack to include the number of plates you want to. This is the reason why this method is very convenient because it excludes the manual adjustment of weight very much thus making the Power Pak dumbbells a bit of expensive too. For preventing dumbbells slipping out of your hands, Power Pak also worked upon their handles which are made up of thermoplastic that provides comfort and firm grip, while lifting and handling. This thing is very much useful when you are performing exercises which are over your head, like chest press and back hand triceps. Switching anything you want to in just couple of seconds makes your workout even easier than ever.
The Universal PowerPak Adjustable dumbbell consist of max weight at forty-five pounds per dumbbell which is quite lower weight than other Adjustable dumbbells Review available in the market. But though, even in this set of weight, these dumbbells are quite good for beginners, women, old people and to those who just want to keep their body maintain at a constant weight and not to be too bulky by time. Along with dumbbells, you should also look towards your workout you plan to do. If you want your muscles to become very much bulky with huge biceps and pretty big round chest you should with a set that offers you around hundred pounds per dumbbell. Otherwise, if your intentions are to tone, cut or burn fat, then Power Pak dumbbells are best for you because their weight is also not that much maximum and you can change weight with a five-pound increment. Having such a unique size it also offers you nine different weight settings under one adjustable dumbbell. A Universal stand is also included in a set of Power Pak dumbbells which lets your dumbbell to be stored in a precise location. The stand include two customized size cradles having an ideal size for quick access to PowerPak Dumbbells.
Specification and Features
There are two dumbbells included which consist of nine weight setting form four pounds to forty five pounds.
The dumbbell stand makes your dumbbells to be stored very neatly.
With no slipping or sliding the thermoplastic handle provides a firm tight grip.
Having smooth turning dials, weight systems is very easy to adjust at each weight settings.
Workout guide is included in a dumbbell set, providing you a routine of different exercises each week.
Final Verdict and Review
In my opinion, the drawbacks and issues of Power Pak Adjustable dumbbells can be solved very easily. Though there is clanging of weight which produces annoying disruptive noise while lifting, this noise does not really decrease the movement of my workout routine. If you maintain your proper movement of respective exercise and keep the dumbbells as neatly and organized as possible these things can be neglected easily and also from the word affordable or cheap doesn't mean they will be going to break easily. Adjustable Dumbbells Reviews Power Pak offers a one-year warranty on these dumbbells for covering all internal parts if it bothers you in the future. Lastly, the design of these dumbbells depends on the user, some of them do have that aesthetic appeal and some don't, like me. dumbbells by this company because I've been using these from around five months and never had such a major issue during my exercise.
Pros
Consist of a dial at both ends of a dumbbell and you only have to adjust one to change the weight.
Can do a work of dozens of traditional dumbbells preventing the need to buy a full rack of them.
Workout guide is included in a set which consist of more than thirty exercises.
Come with a storage stand which keeps the dumbbells organized and makes them to look good.
Have a warranty of one year for both the dumbbells as well as stand.
Cons
Weight plates slides a bit while performing exercises with heavier weights.
Produces an annoying noisedue to the clanging of plates.
Plastic component used on these dumbbells are not that much durable and get broken very easily
The size of these dumbbells are bit larger than traditional dumbbells so it doesn't give that natural feel while lifting.
The design of these dumbbells is not attractive because it consist of hexagonal shaped plates than the basic round ones.