Rogue Bar 2.0 Review
Rogue fitness, is one of my favorite gym equipment companies who manufactures barbells, dumbbells, weight plates and many more to have the of most of my lifting routine. Rogue is now considered to provide one of the biggest range of gym equipment construction in present time. Along with their barbell lineup, which comes in a variety of range and shows great performance. Every rogue bar is different from each other in either way. The difference is mostly in terms of size, features etc. which are minor ones and deal only on bar's looks and design. Furthermore, the recent invention of new steel by USA, is used on bar shafts of Rogue, hence showing no physical change among the bar. Thus, Rogue doesn't sell bar that consists of so many functional differences. The new Rogue 2.0 bar, is the updated version of 1.0 which comes in a black color, and is made of zinc along with bright zinc sleeves. Two major things that makes Rogue 2.0 different from others, is the usage of new compound, self-lubricating bushings in place of bronze one and the ability to easily personalize the image of the barbell by using rubber bands of different colors which are bright, and is found in engineered grooves of the collars.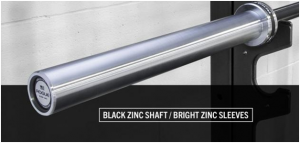 Table of Content:
Product Description
Specification and Features
Pros and Cons
Final Verdict and Review
Product Description
The Rogue Bar 2.0 is the next creation of the 28.5mm Olympic bar that further enhanced the revolution. This new version is fully machined and constructed at the Rogue factory situated in Columbus, Ohio, the Rogue Bar 2.0 represents the towering level of accurate manufacturing with a wide variety of creative features. Which Includes a powerful 190 PSI steel, long-lasting compound bushings, and CNC-engineered groove sleeves having different color bands. Just like the original Rogue Bar, Version 2.0 provides a convenient dual knurl mark for both powerlifting and Olympic, which are having bright zinc sleeves and black zinc coated shaft. With the increment of grooves in the sleeves, it helps athletes and coach to easily recognize and differentiate barbells by changing out their bands. The bar arrives having standard Rogue-branded bands, but you can easily change them with any color which is added in package. You can even use any personalized, customized band that is equivalent to its dimensions.  The Rogue Bar 2.0 is the first barbell which uses compound bushings. This type of bushing are usually found in hi-tech aerospace equipment which are self-lubricating materials. For trainings, in which we have to show maximum intensity, these bushings helpto minimize friction, thus providing both, reliable spin and increment of shelf life along with the bar.  The Rogue Bar provided great satisfaction to the users while performing CrossFit Games and it's believed that the Rogue Bar 2.0 follows its footstep, and contributes it in the same way.
Rogue follows a policy of shipping the equipment on the same day if they are placed by 3PM. The Rogue Shipping System provides you to keep a track on your order, just by the time you place it till the time it comes to your door.  Every Rogue Ohio Bar is engineered and assembled in Columbus, Ohio, and comes with a lifetime guarantee against bending and breaking. Warranty against bending won't be claimed, if any bar is defected due to faulty or negligent use, maintenance, alteration, handling or storage by the user.
The Rogue 2.0 bar, can be taken as one of the amazing and budget friendly bars available in the market. Also, it can work as an alternative for Ohio Bar's Zinc and Oxide versions. With a reasonable price, most of the online sellers and users gave this bar a good review and an average of 4.5 user rating. The etching of the Rogue Bar 2.0 is adjustable and the whip is quite normal just like an average one. Its loadable sleeve dimension is about 16.4" and one of the distinguishing features is the addition of self-lubricating bushing compounds instead of the bronze one. Some claims that compound bushings make more noise than bronze bushing, and it zas got engineered groove for personalization in terms of the bar.
Specification and Features
The bar is a men type bar especially.
The use of the bar is for Weightlifting, Olympic Weightlifting, Powerlifting, multipurpose.
Bar ishaving a weight of 20kg.
The bar has a diameter of 28.55mm
The bar consists of multi knurling and have no center knurl.
There are two knurl marks presented on the bar.
The shaft coating on the bar is of Black Zinc.
Bar has a loadable plate sleeve length of 16.40"
The coating on the sleeves is of Bright Zinc.
Has a tensile strength of 190,000 PSI
Comes with a lifetime warranty, with certain terms and conditions to follow.
The bar is constructed in USA.
Final Verdict and Review
When I first purchased my Rogue 2.0 bar, I wasn't really fond of its feel and design because I decided to buy them because of the extensive tensile strength of 190K PSI and was looking for a bar on which I can do proper strength training. I bought these bars and placed them in my garage gym which was lacking a quality bar above of all gym equipment. Though, I had few bars before which I bought from Amazon but that doesn't really worked out for me especially.  When I switched to so power cleans, I was looking for a barbell that consisted of a comfortable grip and relatively small, because my hands werereally short and I was looking for something that easily wraps on my hands.
After reading different reviews on sites, in the end I was left with three options, which was the Rogue 2.0, Ohio Bar, and the B&R 2.0. The B&R which was of great features, but was having a 29mm shaft made me to stick on Rogue 2.0 as my bar for power cleans. I was really satisfied with the Rogue 2.0 because it made me easier to perform, heavy cleans, deadlifts, squats, presses without showing even a slight bend like an arrow. The spin of the bearings isvery smooth and the etching gives a great balance between the Oly bar and the power bar. By comparing it with an oly bar, the Rogue 2.0 is stiff, which isn't a matter of concern and provides great strength with movement while doing heavy lifts. If you are an athlete, and fighting a CrossFit which is at regional level, than you are no less than a fool if you are not practicing with Rogue Bars. They are manufactured in such a way to give a perfect spin, feel and size when compared to many decent CrossFit bars. Big things short, Rogue 2.0, is a great bar if you are looking for day after day workout, to withstand any gym abuse and is quite affordable too if you look with respect to its features.
Pros
Provides a lifetime warranty from bending.
Multiple knurls are provided in one bar.
Rogue provides Great customer service.
Bar can be used for Weightlifting, Powerlifting, and Olympic Weightlifting.
Has a tensile strength of 190K PSI, which makes the bar impossible to bend and break.
Cons
Not really budget friendly.
Bar produces a rattle sound when dropped.