Rogue Ohio Bar Review
Rogue Fitness consist of vast variety of collection in branded high quality barbells around the world. It can be disconcerting for you to choose, which bar is suitable for you and correctly fits your standards. With the help of public reviews, product pages, comparison, rating you can figure it out too, but only that time you will be satisfied when you handle one of these bars. That's why Rogue do consistent rotation in its barbells, by adding some, removing some and in the end bringing a new version of the bar having same or mix features.
Rogue fitness had made one change in their barbell which subsequently made the selection of the bar much easier. Rogue took a decision to make their manufacturing process relatively simple, by using the same 190K PSI US made steel for the pole of exactly all of its bars. Right after then, Rogue has been in the verge of updating or eliminating it's every fitness barbell who doesn't consist of US Steel 190,000 PSI. The Rogue Ohio Bar, is considered as Rogue's flagship bar, because it was the first bar that was completely constructed at Rogue headquarter in Columbus, Ohio. Manufactured with 190,000 PSI steel to the distinguishing dual knurl marks along with four separate coating variety, every aspect and detail of the Ohio Bar is held with highest standards and precision.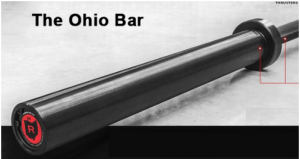 Table of Content:
Product Description
Specification and Features
Pros and Cons
Final Verdict and Review
Product Description
Manufactured with 190,000 PSI steel to the distinguishing dual knurl marks along with four separate coating variety, every aspect and detail of the Ohio Bar is held with highest standards and precision. This steel of the bar is constructed in USA, and has proved on several occasions that, it comes in the category for one of the best steel used in multi-purposes bars. Each barbell rod is ground and polished foregoing to engineering which allows the bar to provide a very comfortable and smooth finishing post with any black oxide, zinc or chrome finish. The barbell rod is manufactured in Columbus, Ohio. The knurling process which is done inside the bar is simply a state of art. Rogue spent months working just with knurls, to make them best for an Ohio Bar. To test the thread and grip, the feel and looks plays a major part because in Rogue's dictionary only that will make the customer satisfy.
The Ohio Bar is manufactured and presented in 4 different finishes. Each finish provides a different level of oxidization conservation and has a direct change on the feel of the knurl.Black Oxide is a mild oxidization conservation process. In this type of steel, there may be a need of maintenance from time to time, but anyhow it gives the best knurl feel which is more like a traditional bar. Bright Zinc and Black Zinc is a medium oxidization conservative process. In this type of steel, comparatively less maintenance is required which is used on The Bella bars and The Rogue. Stainless Steel is a barbell having no plating, so the knurl on the Stainless Steel Ohio Bar is left the way Rogue machined it, thus giving a comfortable feel on hands which is unable to find with other finishes.
The Ohio Bar is gathered with bronze bushings which works as bearing base between the bar sleeve and bar rod, which is a very strong way of constructing a barbell. Each barbell comes with an Ohio Bar authorization that consist of names of the Rogue members who constructed that bar.  This bar consist of an average whip while Olympic weightlifting and enough strength to withstand heavy powerlifting. The US steel used in this bar has proved that it is the best choice for weightlifters.
Rogue follows a policy of shipping the equipment on the same day if they are placed by 3PM. The Rogue Shipping System provides you to keep a track on your order, just by the time you places it till the time it comes to your door.  Every Rogue Ohio Bar is engineered and assembled in Columbus, Ohio, and comes with a lifetime guarantee against bending and breaking. Warranty against bending won't be claimed, if any bar is defected due to faulty or negligent use, maintenance, alteration, handling or storage by the user.
Specification and Features
The bar is men's type bar especially.
The use of the bar is for Weightlifting, Olympic Weightlifting, Powerlifting, multipurpose.
Bar consist having a weight of 20kg.
The bar have a diameter of 28.55mm
The bar consist of multi knurling and have no center knurl.
There are two knurl marks presented on the bar.
The shaft coating on the bar varies according to your choice.
Bar have a loadable plate sleeve length of 16.40"
The coating on the sleeves varies with respect to your choice.
Have a tensile strength of 190,000 PSI
Comes with a lifetime warranty, with certain terms and condition to follow.
The bar is constructed in USA.
The Rogue Ohio bar was my first barbell that I purchased thus I was having no idea about which type of barbell is suitable for me, just by reading reviews and searching different sites on google, I finally purchased the Rogue Ohio bar.
The bar was shipped within two days by which I was really surprised. The bar came in a good packaging, with no breaking and bending observed. Though, I was half way satisfied from my purchase because the design and looks of the barbell was simply mind blowing. As I purchased the one with black zinc and bright zinc sleeves.
The day I started training with Rogue Ohio bar was simply the best day of my gym life. The grip on the hand was very comfortable. The weight on the bar fits perfectly, and gives a good range of motion. The etching on the bar is median and doesn't damage my hands, so I usually use them bare handedly. The bar is multipurpose for all lifts. Also, bar is capable of handling a regular gym abuse with a massive tensile strength of 190K PSI.
Final Verdict and Review
After some time, the black zinc on my bar faded away along with knurling which became less aggressive, but the feel and motion of the bar is still maintained by Rogue Fitness and this is the only reason which really stopped me of purchasing a new barbell. The bar is a bit of expensive and is not really that budget friendly than regular bars. The reason is due to the fact that the bar is branded and comes with a lifetime guarantee for bending and breaking. Overall, in my opinion the Rogue Ohio bar is one of the best barbell I ever used, but if you are looking for a similar bar today which consist of all such features and specifications along with that it's comparatively less expensive, than I would recommend to go for Rogue 2.0 Bar.
Pros
Provides a lifetime warranty against bending of the bar.
The bar easily adjusts in the hands due to multiple knurling been provided.
Rogue Provides Great customer service.
Durable because constructed with great focus and people are working on it for months.
Have a tensile strength of 190K PSI
Cons
The bar is very expensive than most of the barbells.
The black zinc coating starts to chip after a while.