Rogue's Matt Chan Bar Review
Rogue Athlete Matt Chan designed an American-made barbell just by his experience. Being a former firefighter and top finisherabout four times at the CrossFit games, the opinions of Matt are considered mostly as he knows how to carry weight around. This lead Rogue to invite him to Columbus to give an idea for a barbell that comes with qualities of both, powerlifting and Olympic weightlifting. There is a huge variety of barbells available in the market to pick from these days, probably greater than ever before. Rogue itself makes dozens of different barbells, without mentioning other manufacturers who are old and new, trying hard to cope up in a prosperous barbell market. The reason I choose Chan bar, over the rest of the bars is due to the fact it appealed me personally. Firstly, because of its strong and aggressive knurling. Many users and Rogue description showed how sustainable its knurl is, which offers a secure and tight grip over an average bar. The second feature which I found appealing on Chan Bar, is its extensive knurl design. Providing a larger space between the outer knurling to help the shins perform cleans and deadlifts. The third and final reason that made me go with Chan bar, was that I wanted a Chrome bar, and Chan is having a Satin Chrome finish.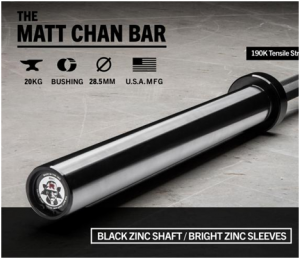 Table of Content:
Product Description
Specification and Features
Pros and Cons
Final Verdict and Review
Product Description
The Matt Chan Bar is constructed with the same quality as of the U.S. steel in Ohio Bar, having both powerlifting and Olympic lifting knurl marks. Matt added a submissive center knurling in the bar. This knurling gave the athletes, that extra little "stick" especially in the back squatting or front rack position, but in any way it won't damage your skin, just like more hostile center knurls do. By increasing the distance between the outer knurling, Matt gives the wider posture on deadlifts and cleans without thinking of scrapping of skin due to knurling. The knurl pattern on the Chan Bar is a bit changed than you'll found on any other barbell in the market. The bar consist of dual marking of Olympic and powerlifting, hence there is a wider space between the outer knurling. As in Ohio bar the space was 17" whereas in Matt Chan it's 21" which makes it typically apart.
The biggest selling point for me, was the sharpness of the knurling on the Chan Bar.The bar usually sticks to your hands, much more than Ohio Bar or other average CrossFit bars. Which isn't really intense, it doesn't hurt your hands, doesn't cutoff and doesn't rip off your skin like most of the other bar, but the fact is that you can hold it without even using a chalk in each of your workout. The Chan bar provides a good grip, but it's not like working with a single-rep competition bar or hardcore strong bar. The grip is comfortable for one-rep max, but not uncomfortable for high-rep sets. On the opposite side, it's better for high-rep sets than other barbells because it doesn't slide or slip down. The Chan Bar is a bronze bushing bar, and there is nothing extraordinary about or wrong with the sleeve movement. The spin is on balance with every bronze bushing bar I've worked with, and it's certainly repetitive thing with all Rogue bushing barbells. The assembly feels secure, there is no sideways play in the sleeve on the shaft, there is no additional noise, and I see no issue in this category.
I have liftedThe Ohio Bar, the Rogue Bar, and many bars having a diameter of 28.5 mm, and I know what is expected from the whip of the Chan Bar. Just a matter of fact, this is a multi-purpose bar, it should give you no surprise that the whip is average when compared with other Rogue bars, and above average when compared to lesser quality of 28.5mm bars. I bought the Satin Chrome version rather than the less expensive zinc version. Satin means, that the chrome doesn't give that reflective shine, because it isn't polished out. In other words, it's the same coating just not shiny. However, it is recommended to do maintenance by using a mild detergent and plastic brush to clean the knurl. Then just wipe the bar with a three in one oil and finish by removing any oil with a towel.
Rogue follows a policy of shipping the equipment on the same day if they are placed by 3PM. The Rogue Shipping System provides you to keep a track on your order, just by the time you place it till the time it comes to your door.  Every Rogue Ohio Bar is engineered and assembled in Columbus, Ohio, and comes with a lifetime guarantee against bending and breaking. Warranty against bending won't be claimed, if any bar is defected due to faulty or negligent use, maintenance, alteration, handling or storage by the user.
Specification and Features
The bar is men's type bar especially.
The use of the bar is for Weightlifting, Olympic Weightlifting, Powerlifting, multipurpose.
Bar consist having a weight of 20kg.
The bar have a diameter of 28.55mm
The bar consist of multi knurling, having a center knurl.
There are two knurl marks presented on the bar.
The shaft coating on the bar varies according to your choice.
Bar have a loadable plate sleeve length of 16.50"
The coating on the sleeves varies with respect to your choice.
Have a tensile strength of 190,000 PSI
Comes with a lifetime warranty, with certain terms and condition to follow.
The bar is constructed in USA.
Final Verdict and Review
After using the Matt Chan bar for over a year, I must say that I couldn't be much happier than using this fantastic creation by Rogue Fitness. As I'm tall, I have a wider stance than most of the people which performing deadlifts, squats or cleans. I have plenty of space on the bar to have a proper comfortable grip which doesn't rip my shins up. Even my wife, who is having an average height can benefit from this bar because of dual and center knurling. The Chan Bar is one of my favorite barbells in my home gym. I have enough rack space that can fit all my barbells but only one, the Matt Chan that always stays off the rack for easy access. I use them in every workout. Using for couple of month, I've observed that the barbell has not chipped, scratched, or lost any spin even after I drop them while performing high intensity workout. I have zero complaints with Matt Chan Bar to be very honest. Thus, a great bar overall and highly recommended, surely a 5 star performance by Matt Chan, no doubt.
Pros
The bar is preferable for short height people because it consist of center knurling too.
The bar sticks on your hand very firmly because of its knurling sharpness.
The Satin Chrome finish, makes the bar look very strong and rigid and doesn't really chip off like most of the chrome plated barbells do.
The shipping comes in extremely well packaging, which consist of a long thick tube.
Cons
The Matt Chan bar is very expensive because it provides extensive features than any of other Rogue's barbells.
Maintenance is required from time to time because it has Chrome plating.