StairMaster Pair of TwistLock Adjustable Dumbbells Review
StairMaster was founded in 1983 and became the leading provider of gym equipment mostly for cardiovascular activities like treadmills, stair climbers and stationary bikes. From the name "StairMaster" it shows that how dominant this company has been in gym equipment by making some really nice stuff. Their popularity is mostly because of cardio related equipment but how would someone know that this company also produces some fine free weight Adjustable dumbbells Review . Though their adjustable dumbbells are not so much famous than the cardio equipment but their new StairMaster TwistLock adjustable dumbbells are some good quality set. The factor which makes them very unique than other dumbbells is the adjustment weight system in which with only a twist of a hand you can switch between weight settings. So, here is a detailed review onStairMaster Pair of TwistLock Adjustable Dumbbells.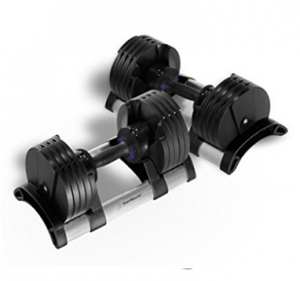 Table of Content:
Product Description
Specification and Features
Pros and Cons
Final Verdict and Review
Product Description
The uniqueness of StairMaster adjustable dumbbells is due to their weight adjustment system known as 'TwistLock'. It has a handle which is twistable and to change the weight you just have to twist the handle and off you go. This is the first time a company has provided with such technology which is very easy to use and gains theattention of many fitness lovers. StairMaster TwistLock adjustable dumbbells are very highly rated by the ones who have used them, but still they are not that much popular for the ones who haven't. The StairMaster TwistLock dumbbells come with an average weight range of five pounds to fifty pounds per dumbbell. You can't increment the weight to 2.5lbs. per side to have a more precise weight setting especially to steadily build your strength. Next, you cannot add more weight when it reaches its maximum weight limit of 50lbs. However, the dumbbells are pretty tough and are not easily breakable.
The new invention by StairMaster Pair of TwistLock is one of a kind when it comes to speed of weight change in adjustable dumbbells When you rotate the handle, the weight plates which are attached to the dumbbell using a metal pin attracts the plate. So if you want a weight of twenty-five pounds let's say you have to first twist the handle to number twenty-five, then you'll see how the pin that is coming from the handle of dumbbells grabs the plate to make the weight look 25lbs. Hence, this is a very unique system which works pretty well. The designs and looks of some adjustable dumbbells are not that much aesthetic whatsoever how brilliant their feature is; design also plays a great role. That's why StairMaster also worked well to give StairMaster TwistLock Adjustable dumbbells a very eye warming design. With their unique appearance and durable manufacturing these dumbbells will draw the attention of many athletes. Also, with a lot of new features and technology these dumbbells clearly outstand other Adjustable dumbbells Reviews 2017 . Hence, giving you one more reason why they should be purchased with a stand for home workout.
The plates, handles and overall extravagant design offer an ergonomic fit like no other. The ones who are extending weight from a long period of time know how dumbbells should be comfortable while exercising high intensity weight lifting. Bypreventing pain, stress and tiredness from your body you will be able to lift the weight with a firm tight grip to strengthen and tone your muscles. StairMaster does offers a two-yearwarranty on the TwistLock dumbbells, which is good for the ones who take time to get satisfied by the product. It will be a time taking process since you have to test them for quite anumber of times but in the end you will finally say that these dumbbells are very much durable. However, it's important to tell that the warranty compensatesonly for the manufacture and internal errors. There won't be a warranty of any breaking or cracking from the dumbbells, so you should handle them with proper care.
Specification and Features
Comes with a weight range of five pounds to fifty pounds per dumbbell.
Comes with an increment of 5lbs. per setting.
There are ten different weight settings which start from 5lbs. and end on 50 lbs. per dumbbell.
Gives a two year warranty.
Carries dimensions of 5″ x 7.9″ x 7.5″
Without taking your hands off from the dumbbells you can change the weight.
Weight selection window shows your selected weight.
Design is very compactable. Compact: Patented design delivers the most compact adjustable dumbbell available
Weight changes can be made when placed in a cradle. Safe: Weight changes can only be made when the handle is in the cradle
Designed with soft grip handles and aluminum cradle.
Final Verdict and Review
These dumbbells priced almost twice than the world's best Bowflex SelectTech Adjustable dumbbells with are much lesser with weight range so I won't be picking StairMaster over Bowflex just because of its adjustment system and cool design. The next issue is obviously the durability.Whether in gym or home, there is a time when you get very motivated and on the run with your sets and reps there is a chance you can drop the dumbbells for a time or two and because of the plastic components attached with the StairMaster you can't do that act. Making these dumbbells very easy to break.  The handle was very comfortable which was fitting very easily and tightly on my hands and was giving me a natural dumbbell feel too. That was very nice for me yet the balancing and adjustment was one of its best features.
Pros
The stand gives many advantages.
Overall design will approach the buyer to purchase them.
Good weight construction is done which helps maintain proper form and prevents injuries.
The stand keeps the weight off the ground, thus no worry of injuring your back.
Gripping the dumbbells is very comfortable because of etched handle.
Cons
Weight range is of only fifty pounds which is not enough for professional weight lifters.
Addition of weight plates at any sense can't be made.
Consists of so many plastic parts which cannot handle wear and tear of natural dumbbells.
Very expensive dumbbells in adjustable dumbbells category.
Wobbles a little.