Titan Fitness Pair Adjustable Cast Iron Dumbbells Review
In the market right now, Adjustable dumbbells cost around hundreds of dollars. But Adjustable dumbbells by Titan Fitnessare one of the most affordable adjustable dumbbells present in the market because of their affordable price, great quality and old school design. Being a fitness lover, if you are having a budget which is a bit low, and still want to hit the gym, then the Cast Iron Dumbbells by Titan Fitness isthe best option for you to go because they save a lot of money than a regular gym membership. After buying these in my work place, I have cancelled out my gym membership and started working out at home because they are very affordable and save my time except of wasting it in the process of driving to the gym. Neither it let me keepwaiting inthe queues of gym, to use a specific equipment as these Adjustable dumbbells Review can be adjusted on various weight settings that can do the same work and better than traditional dumbbells.
These adjustable dumbbells byTitan Fitnessare a great addition to your home or gym if you have just started planning to lift weight or you are a professional weight lifter. The weight plates provided with these dumbbells give you the ability to adjust your desired weight according to your needs. Hence, performing variety of exercises which mainly target your chest, biceps triceps, deltoids, back, abdominals, trapezius etc.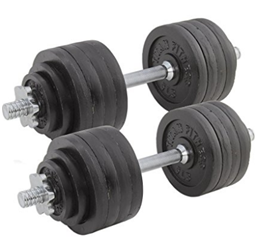 Table of Content:
Product Description
Specification and Features
Pros and Cons
Final Verdict and Review
Product Description
If you are planning to purchase the Cast Iron Adjustable dumbbells by Titan Fitness, in one pair of these dumbbells, you will be provided with a weight range starting form five pounds and goes all the way to fifty pounds on each dumbbell. Whereas, there are two handles with four collars and around twenty-four plates of different weights have been provided in a set, so it's a pretty big number which gives you the ability to adjust weight from five pounds' increment having a total of ten different settings till fifty pounds. The knurled pattern on the bar gives you a good tight grip especially in heavier weights. There is a severe issue in many old school dumbbells regarding the grip that they do digging and ruin the texture of your hand when you are going with heavy workouts but in the dumbbells of Titan Fitness, no such thing has ever happened and observed which may rip your hand because these bars are properly etched and can be used without using a pair of gloves. The texture on the bar is designed in such a way that the bardoesn't even slips from your hand which can be dangerous if dropped.
Both dumbbells in one set of Titan Fitness consist of a bar with a length of 16.25 inches and with a diameter of aninch. Though the length of the bar is pretty muchso it may give you difficulties in performing exercises like should press, bicep curls and many more but with the passage oftime you will get used to it. With a knurling length of 4.5inches you can easily adjust your grip and focus the specific part of your muscle. Having a finish of chrome on handles with painted black plates, these dumbbells give an aesthetic old school look which is one of the best factorsofTitan Fitness Adjustable dumbbells Reviews 2017 . The material used in the manufacturing of plates is Cast Iron, which is a basic metallic material used in every traditional and old school dumbbell because the plates made from this material offer greater durability.
Once you make the dumbbells all loaded up till fifty pounds which is the maximum weight,you can't add excessive weight in the bar because the length of the bar is especially designed to withstand only that amount of weight. If anyhow, someone even manages to do so, then there will be an issue of tightening with star lock collars and if you don't tight them, it will be very dangerous and will make the weight bars wobble while lifting. These dumbbells by Titan Fitness are very much affordable than any Cast Iron dumbbells present in the markets, regarding its quality, durability and ease of use. A must pair set to have in your home if you want a quick workout at home.
Specification and Features
Weight plates are adjustable with a range from 5lbs. to 50lbs.
Comes with two handles, four collars and twenty four different plates.
Plates are branded by Titan and are very easy to assemble and adjust.
Material used in the manufacturing of plates is Cast Iron along with steel.
Plates are painted with dark black color with chrome plated handles.
Total weight of the set in 105lbs.
Comes with a dimension having a Bar diameter.
Final Verdict and Review
I decided to purchase these dumbbells because of their price and cast iron plates but after using them there were some minor issues that should be taken into account too before buying Adjustable dumbbells Reviews 2018 by Titan Fitness. First issue was that the total weight of the plates was 47.5lbs. along with the handles which were supposed to weigh up to 2.5lbs. The length of the bar becomes short when I load up the dumbbells with all plates available. Thus, giving me no more room to tighten the star collar on both sides to feel safe and even in low weights the collars seem to loosen a bit after each set and you need to re tighten them before starting a set. Thisis very annoying and makes the dumbbell shiver a lot while performing the exercises like shoulder press or incline press. When the product first arrived to me, I found that the container in which the dumbbells came was very low grade and made of thin cardboard. The box was torn up due to heavy plates and one of the collars was also missing. Also, the shipping was very slow which wasn't expected by Titan Fitness. Overall, if you have a minimum amount of budget, then these dumbbells are very much useful and will also save your time instead of going to the gym.
Pros
Budget Friendly.
Gives the feeling of stability and security due to solidly built handles and plates.
Weight can be adjusted by extra forged Cast Iron plates in around ten different settings.
Cast Iron plates give a clean look.
Rust free.
Cons
Takes time to change weights and high intensity workouts can't be performed due to that.
Manual addition of weight takes time and work.
Chipping of paint from Cast Iron plates creates a mess in room.
Round weighs roll very frequently.
Bar reaches more than 16inches.