Unipack One Pair Of Adjustable Dumbbells Review
In the market right now, Adjustable dumbbells costs around hundreds of dollars . But Unipack One Pair Of Adjustable Dumbbellsare one of the most affordable adjustable dumbbells Review because of their affordable price and great quality. Unipack is one of the leading producers of gym equipment for both men and women. Recently, they have manufactured a special type of dumbbells made up of Cast Iron well threaded Chrome Handles and are recommended mostly for men. Looking to its quality it helps you to perform the right exercise in a proper way without ruining the form. The combination of Collars and threads gives you a firm grip and helps you to perform exercise securely.Also, the Cast Iron plates helps you to perform consistent and uniform workout experience.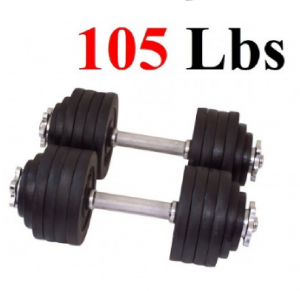 Table of Contents:
Product Description
Specification and features
Pros and Cons
Final Verdict and Reviews
Product Description
If you are purchasing theUnipack one pair of Adjustable Dumbbells, in one set you'll have two pieces of 52.5lbs. Cast Iron Dumbbells. Along with that there will be, two Chrome Plated bars and four Collars like four collars are broken down into two for each bar. The 52.5 lbs. weight per dumbbell is split into Eight 5lbs. weight; two 2.5lbs. weight; two 1.25lbs. weight. When you do the sum of this figure you'll get 47.5lbs. weight, but adding up the weight of bar and collars adds up to a total of 52.5 lbs. per dumbbell.The weights are adjusted with and increment of 2.5lbs. like its starts from 5lbs. (the weight of collar and bar) and then with 2.5lbs. increment it goes all the way to 52.5 lbs. per dumbbell.
A dark black paint is done on the weights made up of Cast Iron. Giving them a look of Heavy-Duty Solid Dumbbells which consists of good quality paint that holds up for months. There is a chipping of weight after several months of use but if you are fond of only lifting heavy then that factor won't affect your exercise much as your holding only bar to grip the dumbbells. There was a concern by some users that the paint on the plates produce a smell when you first receive it which disturbs the environment, that paint is having a coating, a special type of chemical which will prevent the plates of getting rust. If then also you are not happy, you should put the weight on roof or exposing the sun when you first receive them. With the Chrome plated Collars and Bars, in the center of the grip the manufacturers have set up several ridges which helps you to hold the dumbbells tightly.Wearing of gloves is suggested if somehow ridges are bothering you.
From the bar, it's a pretty easy stuff to add or remove weights. You can simply screw on the collars to adjust weight. On each end of the collar there is a rubber which prevents the weight to wobble once you are performing the exercise hence it keeps them in their place. Since the Rubber is a much lighter material than Cast Iron, Unipack provides you with six spare rubber washers just in case. Unipack adjustable dumbbells are simple to store anywhere because of their flexibility, size and convenience. Unipack adjustable dumbbells is a great investment because it can help you to perform a wide variety of exercises with different weights and at any place like in gym, home or even during work. However, being a fitness lover and lifting weights for many year, I have faced one drawback on using Unipack's Adjustable Dumbbells Reviews 2017. That is, while adjusting the plates there is only an increments of 5lbs., therefore the size of a bar cam fit more weights which can sum up to the full 52.5 lbs.Like the weight covers up the whole bar if you go far all in weights of 52.5lbs. This thing could've been solved if the increment would have been of ten lbs. Also you cannot go for Unipack Adjustable dumbbells if you are performing a quick super set exercise in which you have to do variation of weights in each set. It takes time.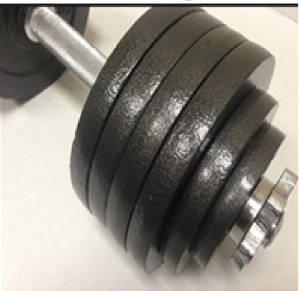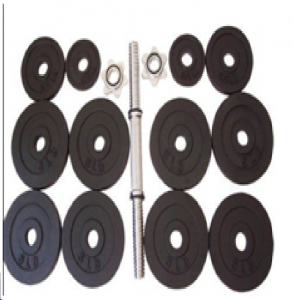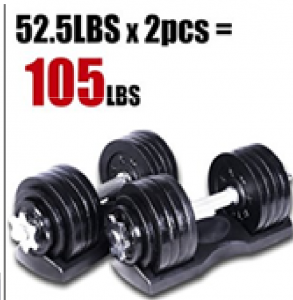 Specification and Features
Made up of Heavy-Duty Cast Iron with Chrome handles.
is a set of 2 of 52.5lbs. dumbbells.
With 52.5lbs. set you'll get one etched solid chrome handle; 2 Collars of five lbs. weight; 8 five lbs. cast iron plates; 2 2.5lbs. cast iron plates; 2 1.25lbs. cast iron plates.
Etched collars and handles for tight grip.
Weight plates are made up of Cast Iron.
Increment of 2.5lbs. from 5lbs. to 52.5lbs.
Six Spare Rubber washers included which prevents the weight from sliding and wobble while lifting.
Length of a bar is Sixteen inches.
Final Verdict and Reviews
Unipack One Pair of Adjustable Dumbbells are no doubt one of the best adjustable dumbbells present in Amazon. With a total of one hundred and five lbs. which gives you two pieces of 52.5 lbs. has one of the largest review rate on internet. The review is obviously outstanding.The best part of Unipack Adjustable Dumbbells Reviews 2018 is that they are very affordable and durable. The Heavy Duty Cast Iron plates with a dark black paint on it gives a very heavier and old school look also the chrome handles which is textured to provide solid and firm grip while lifting makes these dumbbells simply outstanding from the rest. These weight plates are adjusted by spin on collars and Rubber cushions accommodates the weight to stay in its place while lifting. Wobbling of weight is completely minimized with the help of rubber cushions which provides stable form in exercise. However, the Cast iron adjustable dumbbells does have some important drawbacks like it takes time to change add or remove weight if you are performing high intensity circuit and for some there is a concern that the grip is painful to their handles. But still these things doesn't matter to me and several lifters if you are looking more towards affordability and durability and with no doubt carrying in mind these are the best Affordable Adjustable Dumbbells ever.
Pros
Budget Friendly.
Feel stable and secure due to solid build.
Weight can be adjusted by extra forged Cast Iron plates.
Cast Iron plates gives a clean look.
Rust free.
Cons
Takes time to change weights.
Manual addition of weight takes time and work.
Chipping of paint from Cast Iron plates.
Round weighs roll very frequently.
Bar reaches more than Sixteen inches.