Vulcan One basic Economy bar Review
Vulcan is one of the brands in gym equipment market that neverdisap points its customers regarding barbells, dumbbells and bumper plates. The company is run by a knowledgeable person who knows the value of its customers, so he makes sure that bars are in good quality, have a budget friendly price tag and the equipment is reasonable and durable. Keeping all such things in mind, the Vulcan stands with its pride about product.  The Vulcan One Basic Economy barbell comes with some expanded features and benefits than the rest of the barbells available in the market. The main benefit comes within its name 'Economy' hence, making this barbell extremely budget friendly. When it comes to performance from beginners to experienced weight lifters, the Vulcan one basic sticks with its task of being competitive than any other home gym or CrossFit style workout barbell. The Vulcan One Basic is labelled as budget friendly with greater longevityand an effective Olympic barbell that has the ability to replace other barbells in the market having same specifications. Though, Vulcan one basic is labelled as an Olympic barbell yet it has the capability to work as a multi-purpose barbell too. Thus providing reliability and performance both, it ensures the users that it can survive such aggressive environment. Though, to increase your satisfaction a bit more, Vulcan Standard Bar comes with a three year warranty against bending or breaking.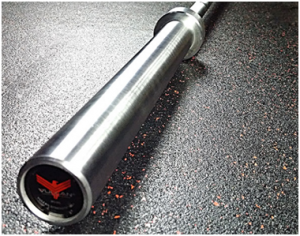 Table of Content:
Product Description
Specification and Features
Pros and Cons
Final Verdict and Review
Product Description
The Vulcan One sits between 29mm powerlifting bar and 28mm Olympic lifting barbell, having a diameter of 28mm which was changed from 28.5mm. It was changed to provide more whip while performing Olympic lifts. The focus was to give Olympic lifting in a very affordable price tag.  But having dual knurl markings on the rod, it is still considered to be a multi-purpose barbell. The sleeves are constructed with chrome which is a best choice for sleeves because it increases resistance from getting damaged and hence keeping the look fresh as before. The sleeves are important thing to consider because dropping of plates from a height can chip off the barbell and its design. When shaking the bar from side to side, there is a lateral movement being observed. This motion is a standard mark or label for cheaper and low quality barbells. Though, at this affordable price tag such lateral movement can be expected. The bushing on the barbell should be bronze because they are very durable and gives a smooth consistent spin during Olympic weight lift. Thus, Vulcan basic provides all these as mentioned before.
The knurling on the bar is moderated in one basic. Though, experience weight lifters goes for a pretty rough knurl but the knurling pattern on barbells should be from mild to moderate. Having a moderated knurl it allows the Vulcan One basic to move the hands smoothly when needed like on lifts like squats, cleans or jerks. Also, during high rep sets it won't dig up your hands and neither there going to be a need of some kind of chalk or gloves to make the grip comfortable. The Vulcan One Basic is dual knurled, like every multi-purpose barbell. With clean edges on the knurl. The bar has a hard chrome finish which gives a precise, clean and natural finish like a barbell should have. Hard chrome besides having an eye warming look, it increase bar strength along with its durability. Whereas, in other barbell the finishing of zinc or oxide also looks good but they are unable to handle wear and tear of Chrome finished barbell because they won't easily get chip off. Hard chrome provides an average corrosion resistance.  Having a hard finish, it won't cut or peel. Though, Chrome finish is expensive and a much greater investment than zinc or oxide finish. But if you are getting a maintenance free, corrosion and rust free barbell than the price tag doesn't really matter.
The Vulcan One Basic Barbell consist of having a moderate whip in an average load with respect to Vulcan. Having a chrome finish and an affordable price, the whip should be adjusted and shouldn't be expected much by the user. However, Vulcan gives a very smooth and comfortable whip during low weights. But doing powerlifting with heavier lifts, there was a very slight whip observed which I think in this price point isn't really bad. Though, in previous 28.5mm Vulcan the whip was very bad but it's good in new 28mm diameter it is pretty much better than before.
Specification and Features
The bar is of IWF standard having a weight of 20 kg Olympic bar.
Use of the bar is basically for Olympic weight lifting.
Have a shaft diameter of 28 mm
The bar has a tensile strength of 190,000 PSI which is verified.
Consist of an average moderate knurling with no center knurl supported.
Comes with dual knurling markings of IWF and IPF.
A moderated whip is provided to give the bar elasticity.
The bar shaft and sleeves consist of hard chrome finish.
Bronze bushing are used for smooth and noise less rotation.
The bar is constructed in USA.
Comes with a three warranty, with certain terms and conditions to follow.
Final Verdict and Review
The reason to do give a detailed review for Vulcan One Basic Economy bar, is to enlighten the beginners to make an educated decision in a world full of over-priced multi-purpose barbells. In my opinion, this barbell is highly recommended for starters due to the fact its immense benefits and features. Vulcan One Basic offers a three year manufacturing warranty but if properly maintained with care and maintenance, it can go till lifetime too. Having a very cheap, affordable price this bar provides a hard chrome finish which is impossible to find in recent market with such a low price tag.
Though, there are many cheaper, extensive features barbells that are easily found in big stores. But the thing that matters the most is the finishing, which simply lacks from them thus making them easily breakable after several uses and dropping.  Having an above average barbell with superior spin rotation, the barbell is better than production average in both aspects, whip and PSI rating. With a fine construction, it ensures that barbell has the capability to perform well over long time. Thus, seeing all such features it gives a certain doubt in mind that this bar is a bit underpriced. Vulcan One base economy bar can work you out from entry level to amateur level with quality weightlifting and low on budget. If keeping all such factors in mind, it won't be a hard choice for you to pick amongst rest of the barbells.
Pros
Comes with hard chrome finish which gives a solid feel with an attractive look.
Provides a good moderated whip in lighter and medium weight sets even in this price tag.
The bar is very affordable having a chrome finish as compared to other barbells with same specifications.
The bar is rust, maintenance free because of chrome.
Have the ability to handle dropping without giving a bend or break to the shaft.
Cons
There is a less or no whip while doing powerlifting or working with heavier weights.
The description of Vulcan one basic should be changed from Olympic Weight lifting to multi-purposes.